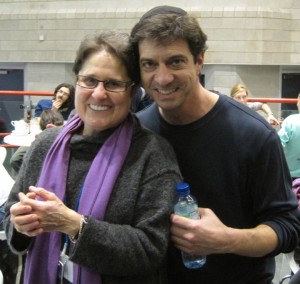 by Sam Glaser
Limmud sounded like a good idea this year.  This revolutionary British organization was celebrating its 30th anniversary and Debbie Friedman and I were among those honored to be invited.  Limmud is the foremost conference worldwide for lay people of all denominations to spend a week engrossed in Torah study and Jewish culture.  Some 2500 Yidden show up annually to the University of Warwick, England during the last week of the year.  The explosive growth of this grass-roots phenomenon has now spread to forty cities worldwide.  I have performed at US, UK and Australian versions of the conference and love the chance to see Jewish unity fully lived rather than merely theoretical.  When Chanukah is "early," it is generally safe for me to fill the week of Xmas with this conference since my Chanukah tour is over mid-month.
What I didn't anticipate was the fact that my November and December would be booked to the hilt.  Twenty cities in two months is enough to make any grown man ardently long for his family, bed and favorite toilet.  I had a three-day turnaround in LA after an east coast swing and then I boarded a ten-hour transatlantic flight.  British Airways sold every seat on the 747.  Luck would have it that I was seated next to an oversized filmmaker from Brussels named Michael Goldstein.  Large world, well managed…we hit it off and spoke of the opportunities in Jewish life for hours until he fell asleep on my shoulder.  Needless to say, I arrived exhausted in frozen England the day after a four-day blizzard shut down Heathrow.  An endless array of white patchwork fields spilled into cobalt blue seas as we descended over the United Kingdom.  Once on the ground we had a two hour wait for a two hour bus ride. I took solace in the fact that at least I'd be able to spend some quality time with Debbie.
What made this whirlwind week different from other conferences I've done with Debbie was the fact that she didn't have "handlers." Usually there are protective, mothering fans that smother her with affection and ensure that she doesn't overdo it.  This time, Debbie was totally in the mix.  Teaching, singing in the ad hoc choir, performing and hanging out at the inevitable late night jams until the wee hours.  Several nights in a row, literally past three in the morning, insomniac musicians huddled in a circle with a dozen guitars, dumbeks, tambourines and iphone pianos and sang every Jewish, Beatles, Cat Stevens, Stevie Wonder and Carole King song we could think of.  Thanks to the miracle of ubiquitous internet access, anytime we couldn't remember the lyrics, someone was always ready with a PDA linked to the right words.  Often I am thrust into a leadership role at these kumzitzes in order to manage segues and land in ideal singing keys.  At Limmud, however, the leadership was shared by a dozen songleading masters…sometimes Debbie would start something and then calling the next tune would pass organically to another person.  We enjoyed an unspoken clarity on when the exact time transpired to move onto something new and over a four hour period covered just about every genre known to Western Man.
Debbie's last official concert was everything that we fans wanted.  All the hits, the crowd singing at the top of our lungs, tears aplenty at her epic ballads. Her voice was frail but she still hit the notes.  Her humor was spontaneous and spot on and of course her trademark issues with guitar tuning created several classic improvised moments.  Our beloved EJ Cohen was there to interpret both of our shows with her flowing, artful bi-lingual sign language.  Debbie asked that no one video, photograph or facebook about the show.  Just to be present, to be with her.  Of course she sang Misheberach for us and then us for her.  Little did we know.
The next night Debbie came to my concert with a black eye.  She was walking with a tortured gait and had slipped on the ice. Interesting that when it slips below freezing, London Fog turns into icy mist, coating the sidewalks with a treacherous layer of thin ice.  Hearing the British audiences sing along with my songs with a cockney accent was a true highlight.  It's been said that accent doesn't carry through in singing.  Wrong again!  After my show I managed to sell nearly all my CDs and then hung out at the mosh pit of a bar scene with the young folks.  I saw Debbie sitting there alone and available.  I promise that this never would have happened at any of the 17 CAJE conferences I did with her.  I sat down on the steps beside her and we spoke of new projects and her tale of woe caring for her ailing mother and the scarcity of gigs.  I didn't realize that she had moved to Southern California a few months earlier to be close to her ima, and I was happy at the prospect that we might be able to spend some time together.
Over two thousand people enjoyed a star studded closing gala featuring an amazing ad hoc choir assembled over the course of the week.  Following my Hineni song, conductor extraordinaire, Stephen Glass, presented a moving tribute to Limmud, sung by the choir and featuring Debbie and me on the opening verses.  I held her hand throughout and at the end of our portion of the song she gave me a warm, beautiful, maternal smile that I will never forget.  We were often called upon to do these programs; at the GA conference, CAJE and Halleli at the Gibson Amphitheater.  I realize that we make an odd couple for a number of reasons.  But we are truly singing the same song, with the same goal of getting our fellow Jew invested in a relationship with a loving God.
I flew home after a full week of near all-nighters, singing until my voice was like sandpaper, teaching every day, and too many experiments with the eclectic beers on tap.  Thrashed is the best word I can think of.  A friend at my first Shabbas meal back in LA suggested I do a full week liver cleanse and I took him up on it.  No carbohydrates, soda, caffeine, Advil, meat, booze, etc.  I usually can power out my work after my kids go to bed.  I found myself exhausted at ten pm.  If this trip to the ice planet Hoth took such a toll on me, imagine what it did to my delicate friend Debbie.  She contracted serious pneumonia and didn't have the resources to fight it.  The entire Jewish world (at least the non-Orthodox affiliated segment) held prayer vigils and sing-along's to appeal to the Creator of the Universe to give Debbie another chance.  But this was to be her time.  The shocking news sent chills down my spine. Jerry Kaye's Facebook post uttered the impossible simply and finally.
Heartbreak.  Tears.  Shock.  Disbelief.  Sadness.  Then all of them over again and all together.  The letters, condolences and memories poured in on Facebook, Hanashir Listserve and email.  I called many of my Jewish musician peers just to hear their voices and get perspective.  I was slammed in the studio that week and it was so hard to focus on anything.  I posted this at the height of my grief:
"I'm broken hearted. Our dear friend, mentor and spiritual ima has left the world. I can't imagine what a beautiful, holy place she is in right now. How many of us did she touch with her sweetness, with her direct channel to God's music. I will always sing for her and with her wherever I go.  Every thing I do I think, wow… Debbie can't do that now.  I'm stoic and then crying again.  I just tried to explain to my kids which songs she wrote that they know and then broke down again.  I'm still not sure what losing Debbie means.  I don't think any of us know. OK.  I'm crying again.  We lost her in Parshat Beshalach, Shabbat Shira.  She's dancing with Miryam. No question. The seas are parting.  She opened up the sea for us Jewish musicians.  She showed us our potential.  She showed us how to open up the hearts of our audiences to hear God's music.  How the concert or song session was not about us singing, but about lifting the spirits of everyone in the room, getting them to sing, to feel and connect. Last week I got to sing with her, to hold her hand, see her smile.  What a gift."
I tried to figure out why I was so affected.  Debbie and I saw each other just a few times a year.  We came from different worlds, different coasts, different theologies.  She often made jokes about my move to Orthodoxy.  The only people who like to check if I am wearing tzitzit are one of my Aish rabbis, Craig Taubman and Debbie Friedman.  I realized that the core of my mourning was the feeling of the loss of a mentor.  Debbie was one of the few artists that worked at her Jewish music full time without a day gig.   When I was trying so hard to break into the business with my first album, she had 8 CDs in the Tara Music's top 50.  She showed me what was possible in my life.  Moreover, she used her position to create opportunities for other composers and songleaders.  She was the master and we were her students.  She proved to us that there were no barriers to entry; not gender, sexual preference, handicap or level of education.  What mattered most was talent and tenacity and getting yourself out of the way so that God could speak through you.
I remember my second CAJE conference in 1993 when Debbie was leading a final jam session the last night.  I was thinking, "this kumbaya nonsense has got to stop!  It's time to rock!"  Yes, I was rash and impetuous, and over the years I learned the magic of her soothing music and the power of its simplicity.  Like a great Shlomo Carlebach tune, Debbie's songs grab you immediately and stick in your head, resurfacing every time you are innocently eating a latkeh, planting a tree or teaching the aleph-bet.
A few years ago I was in Debbie's Manhattan apartment hanging out and making music.  She has an amazing piano and we sang and shmoozed and spoke of hopes and fears.  Even brilliant Debbie could feel vulnerable and question if she was making a difference.  I told her that I was living on the edge…three kids in private school and a considerable mortgage riding on the back of a sole wage earner musician dad.  That all my relatives thought I was nuts for choosing my field.  She said, "Sam, if times are ever tight and you need help, I will be there for you.  I will give you half of the money I get in my gigs to help you out."  I laughed at her gesture and she looked at me with dire seriousness.  "Sam, I'm not kidding.  You need to be doing what you are doing.  And I will be there when you call on me."
I sobbed throughout her funeral.  It's the music that really gets to me.  Every song had me reaching for more kleenex.  Of course I wanted to be one of those chosen to sing.  But I'm not sure I could have found my voice through the tears.  Seeing the Collings guitar that I had played the week before on top of her casket was so shocking.  We had to be reminded that this ceremony was not for the musicians or the Reform movement, it was really for her immediate family that was grieving in the front row.  The audience was a who's who in Jewish music.  Sad that it took the loss of a peer to get us together.
More moving was the graveside service.  A thousand people came to the memorial but only a few hundred drove to the internment.  The Jewish custom of the mourners filling in the grave is so perfect.  We bury our dead.  It's so final and real.  We sang her songs as we shoveled.  I cried with her mother and her dear sister.  They were a real team and now they had lost their captain.  We comforted the mourners and then everybody left.  Except the musicians.  No one told us to stay.  I can only speak for myself.  I couldn't leave her.  I just stood their crying, contemplating the world without her, focusing on the moment so that I could perceive her liberated neshama and not get pulled into a petty conversation.  When I came to, I looked around and I saw a dozen of my fellow musicians standing in random places on the grass in the golden light of the setting sun.  Wordlessly, we all started coming into a circle around her kever.  We joined hands, swayed and sobbed.  Wow.
As I drove home I felt a powerful determination sweep over me.  Not to settle for mediocrity in my life, in my career.  To force open the gates of possibility for Jewish music and the Jewish people.  To reach our non-Jewish friends with the gift of our message of hope, prayer and sanctity.  Mortality came sweeping down on my complacency like a tidal wave.  How many years do I have left to change the world?  To sing, perform, record, travel?  My twenty-one CDs have been a defense against feelings of insignificance.  But it's not enough to put out albums.  I must use music as a stepping stone to take a stand for all Jewish people and our allies.  I must open the financial barriers that limit our expression, that stifle this renaissance.  Music is a gateway to transcendence and unity between nations.  Debbie Friedman started the fire and I must inspire my peers to turn this flame into a conflagration.
Debbie, thank you for setting the stage, for taking the lead, for teaching us, for striving through your pain and suffering to continue to inspire us.  Thanks for tolerating me and loving me.  Thanks for your amazing songs that have changed the world.    Most importantly, thanks for singing with me and being my friend.  I miss you so much.