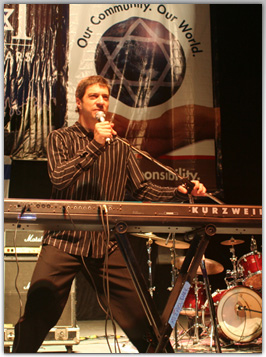 Stand With Israel
"Sam, your concert for the America-Israel Friendship League was simply spectacular! You connected with our audience of Christians and Jews alike and electrified the evening. Young and old were out of their chairs dancing and celebrating Israel and America! You managed to touch their hearts and inspire their minds…truly a life changing experience. The evening was memorable for everyone involved and we can't wait to have you back again."
Kimberly Phillips, Events Chair, America-Israel Friendship League of Utah
"I want to thank you for the inspired music and words you shared with us here at Steamboat Christian. You had such a powerful connection with all those assembled before, during and after the concert. I can't remember the last time I've seen so many joyous smiles and heard such sweet, spontaneous singing. You are so gifted in your ability to share the beauty of the Jewish faith and the importance of standing with the Jews and Israel. May God bless you with the strength to share your ministry to congregations around the world. We can't wait until you come back again to Steamboat again."
Pastor Troy Lewis, Steamboat Christian

Sam Glaser has a special gift to engage Jews and Christians alike in an appreciation of the Jewish heritage and the importance of Israel advocacy. As a committed and informed Jew, Sam has a rare combination of powerful Torah insights and spiritual, world-class music to communicate that message.
More and more, concerned Americans are finding that they can have a significant impact in aiding Jewish causes throughout the Diaspora and Israel. Unprecedented ecumenical support has been given to such organizations as the American-Israel Friendship League, Nefesh B'Nefesh, CUFI and the Jewish Agency. Sam has been featured at several conventions, rallies and churches with powerful programming to highlight these efforts. His music has also served as the soundtrack for inspiriatlonal films and videos promoting these programs.
The Bible commands all nations to "pray for the peace of Jerusalem" (Psalm 122:6), to "speak out for Zion's sake" (Isaiah 62:1), to be "watchmen on the walls of Jerusalem" (Isaiah 62:6) and "to bless the Jewish people" (Genesis 12:3). These and so many other verses of the Bible have one overriding message: all nations have a biblical imperative to stand with Israel and the Jewish People in their time of need. Israel's time of need is now.
One of the best ways to empower your community is to schedule a workshop, concert and/or weekend with Sam Glaser. Audiences will leave the event inspired to make a difference and armed with the specific information they need to do so. They will pray for the peace of Israel, learn important facts about the Middle East and sing along with traditional Jewish favorites and Sam's contemporary settings of the psalms, culminating in a happy hora at the end of the show.
Contact Marcia Baron at Glaser Musicworks to schedule an event! 800-972-6694.