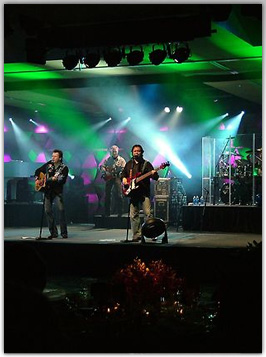 event production
Let Glaser Musicworks create an event for you! Glaser Musicworks Event Production is a full-service event planning, coordinating and production company. We are consummate overachievers in our efforts to excel in overseeing every aspect of your event. Our services include every relevant aspect involved with resourcing providers of music, décor, rentals of every kind, venues, publicity and invitations.
Marcia Baron and her capable staff at Glaser Musicworks Event Production are masters of detail. In fact, we believe that it's the attention to details that makes any event successful.
We begin by meeting with you to explore your expectations and goals. We then create a master plan that serves as our constant guide in planning your event. As soon as we research all costs involved we present you with a customized proposal and then adjust the scope/budget accordingly. Finally, we work with vendors to negotiate contracts, create a production timeline, document every transaction and oversee the schedule until the conclusion of the big day. We maintain cheerful communication with you, our valued client, every step of the way.
Whether your function is a city-wide festival or a very personal party, let Glaser Musicworks Event Production make it a smash hit!

Events Coordinated by Glaser Musicworks
Jewish Star 2007-2008
An American Idol style vocal competition held at the annual Coalition for Advancement in Jewish Education conference. Glaser Musicworks supervised the concept, auditions of singers throughout North Ameria, hiring of judges, audience voting, and three nights of concerts that yielded three new "Jewish Stars" each season.
Chanukah Spectaculars 2004-2005
Glaser Musicworks helped to rehearse, arrange and conduct over 500 young performers and their cantors from a dozen Orange County, CA synagogues. The gala concerts were performed for sold out audiences in the 3000 person capacity Segerstrom Hall in Costa Mesa, CA. The event included an extensive ad campaign, klezmer groups and strolling clowns in the lobby and a gala after-concert party.
The American Jewish Song Festival 1992-2000
The largest and most prestigious award program for new Jewish songs featuring an annual star-studded evening of new Jewish music. Glaser Musicworks operated in tandem with the Jewish Music Commission on the concept, graphics, call for entries, publicity, judging and the annual performance in Los Angeles.
Taste of Kosher LA at the American Jewish University 1998-1999
Glaser Musicworks coordinated the talent, sound, lighting and infrastructure on multiple stages at the LA campus formerly known as the Universtiy of Judaism. Over a dozen bands, dance troups and comedians were featured each year.
Tribute Concerts for the Orthodox Union 1995-1996
Glaser Musicworks created the centerpiece evening for the Orthodox Union West Coast Conference over a two year period. Both the Tribute to Rabbi Shlomo Carlebach Concert and the Tribute to Jerusalem Concert featured local cantors, singers and musicians from the greater Los Angeles area. Glaser Musicworks coordinated advertising and publicity, contracted the musicians, acted as liason for the talent, supervised rehearsals and coordinated the recording of the events with a mobile 48 channel truck.
Performing Arts Concert Series for American Jewish University 1994-1997
Glaser Musicworks produced, publicized and coordinated 30 concerts a year in the Performing Arts series at the 500 seat Gindi Auditorium. Classical and contemporary music, comedy, drama and dance filled the stage each week. This every other week event was used to bring traffic to the University as well as to entertain students, staff and visiting Elderhostel programs.