pella a capella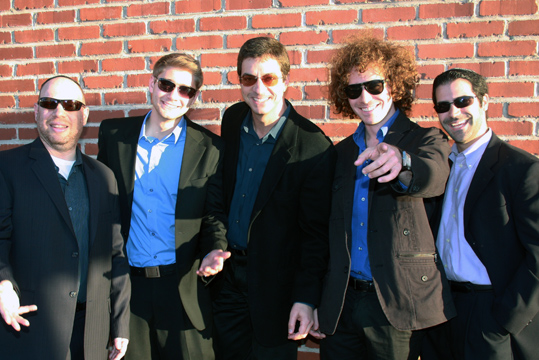 Check out our new video!
Pella is a world-class a capella vocal group dedicated to providing celebrations with upbeat and meaningful entertainment. The talented vocalists of Pella perform at bar/bat mitzvahs, wedding ceremonies, sheva brachot, synagogue services, banquets and more. Our beautiful harmonies, broad repertoire and lively personalities guarantee a memorable event.
Pella originated as a merger between three of the countries most renown professional Jewish a capella ensembles: Kol Zimra, Harmonia and Sam Glaser's Kol Sason. Pella's combined experience and depth of talent are unparalleled in the industry. With talented singers worldwide, we're proud to have performed at more events than any Jewish acapella ensemble in existence, including:

•Two featured performances at the White House, for the President of the United States, in 2004 and 2008
•Singing the national anthem at various professional sporting venues, including Dodger Stadium and Citi Field, home of the New York Mets
•Performing at the annual Celebrate Israel Parade along Manhattan's Fifth Avenue, and post-parade performances in Central Park
•Over 1,000 private events around the globe

One of Pella's specialties is making music where instruments on the Sabbath are not permitted. We get the crowd singing, dancing and celebrating without the need for a band and PA system. At a typical event, Pella welcome guests with song as they enter, provide the guest of honor with a musical grand entrance and make all the attendees part of a rousing hora. We then perform a short set customized for the occasion and stroll table to table taking requests. Guests often join in the fun and create spontaneous musical moments.
Another specialty of the Pella singers is in enhancing prayer services. Our harmonies enrich the familiar melodies and give all assembled a peak spiritual experience as their voices blend with those of the cantor and congregation.
In addition to our broad repertoire of Jewish songs we excel in Broadway, pop, rock and jazz. When strolling table to table there are very few requests that can stump us; usually there's at least one of the performers that knows all the words to any given song. Clients can specify any favorite tunes for the group to prepare in advance and Pella is happy to create parodies to highlight the theme of any event.
Pella usually performs with 5-12 singers. The size of the group is based on budget, type of occasion and the size of the performance space.