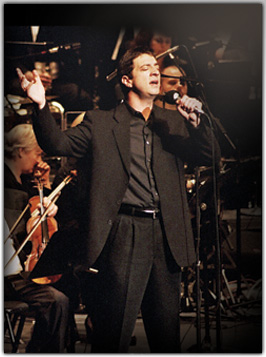 Sam Glaser with the LA Jewish Symphony
About the concert
With over 120 gifted performers on the stage, Sam Glaser delivered his most ambitious concert to date before an enthusiastic crowd at the historic Alex Theater in Los Angeles. Conducted by Dr. Noreen Green, the acclaimed L.A. Jewish Symphony integrated seamlessly with Glaser's eight piece band, an adult choir and the Kol Bamidbar Children's Choir.
Now that Sam's entire two hour show has been orchestrated, your local symphony or community orchestra and choirs can be engaged to provide a truly unforgettable program. For the ultimate in an elegant and moving evening you must experience Sam at a grand piano surrounded by the warmth and majesty of an orchestra. Any interested organizations are welcome to contact Marcia Baron (800-972-6694, marcia@samglaser.com) to customize an orchestral appearance for your community and to discuss rates.
Click here to hear concert highlights!
Concert Program
Hineni
Music and Lyrics by Sam Glaser
Orchestrated by Lee Thornburg, From Hineni
Od Yishama
Music and Lyrics by Sam Glaser, Hebrew Lyrics from Liturgy
Orchestrated by Lee Thornburg, From The Bridge
Ma Tovu
Music by Sam Glaser, Lyrics from Liturgy
Orchestrated by David Stern, From A Day in the Life
Adult Choir
Shabbas
Music and Lyrics by Sam Glaser
From Hineni
Adon Olam Medley Music by Uzi Chitman, Lyrics by R. Shlomo Ibn Gabirol
Bashana Haba'a Music by Nurit Hirsh, Lyrics by Ehud Manor
From The Songs We Sing
Born to Remember
Music and Lyrics by Sam Glaser
Orchestrated by David Stern, From A Day in the Life
Blessing
Music and Lyrics by Sam Glaser, Hebrew Lyrics from Liturgy
Orchestrated by David Stern, From Across the River
Adult Choir
Kol Bamidbar Medley
Music and Lyrics by Sam Glaser, Hebrew Lyrics from Liturgy
Orchestrated by Chris Hardin, From Kol Bamidbar
Children's Choir
INTERMISSION
Modeh Ani
Music and Lyrics by Sam Glaser, Hebrew Lyrics from Liturgy
From A Day in the Life
Asher Bara
Music by Sam Glaser, Lyrics from Liturgy
From Across the River

Ki Heym Chayeynu
Music by Sam Glaser, Lyrics from Liturgy
Orchestrated by Chris Hardin, From The Bridge CD
Yisrael
Music and Lyrics by Sam Glaser
Orchestrated by Chris Hardin, From Across the River
Oseh Shalom
Music and Lyrics by Sam Glaser, Hebrew Lyrics from Liturgy
Orchestrated by Chris Hardin, From A Day in the Life
Rabbi Shlomo Carlebach Medley
Music by Rabbi Shlomo Carlebach, Lyrics from Liturgy
From Shlomo Carlebach Tribute
Yerushalayim Shel Zahav
Music and Lyrics by Naomi Shemer, English Lyrics by Sam Glaser,
From The Songs We Sing
Hatikvah
Music: Traditional, Lyrics by Naftali Imber
Adult Choi
Live at the Alex Credits
The Los Angeles Jewish Symphony, Conducted by Dr. Noreen Green, Artistic Director
The Sam Glaser Band
Sam Glaser: Vocals, Piano, Arrangements
Cassio Duarte: Percussion
Ramiro Fauve: Acoustic Guitar, Background Vocals
Mat Gurman: Electric and Acoustic Guitar, Background Vocals
Dave Hooper: Drums
Michael Lington: Sax
Larry Steen: Electric and Acoustic Bass
Lee Thornburg: Trumpet
Chris Hardin: Additional Keyboards
Adult Choir, Coordinated by Harriet Glaser
Jane Fredgant
Ellen Sugerman
Marsha Plafkin
Judith Palarz
Rush Miller
Harriet Glaser
Babs Reubens
Monica Borochoff
Joan Brody
Mimi Hiller
Mike Neuwirth
Perry Fredgant
Earl Schub
Benny Sommerfeld
JB Hiller
Kol Bamidbar Children's Choir