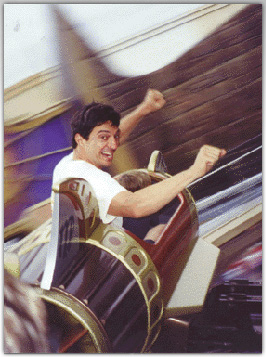 music top ten
Hi Friends. Pardon me this indulgence, but on a recent foray into the over 2000 CDs in our den I decided to stay up late and summarize my all time favorites for all to see. Admittedly, my "Deserted Island" CD collection will be a bit heavy to carry...and no thanks, I'm not into the mp3 scene. Give me hi-fi or give me quiet!
You can catch me on many a flight, driving L.A. freeways or bombing down a ski run while singing this music at the top of my lungs.
To me, great music is survival.
To qualify for this list each artist has to maintain consistently excellent releases, such that one could reach into their catalog at random and pull out a winner. In other words, "one hit wonders" need not apply. Yes, I'm aware that this list of formidable influences on my music is somewhat dated. While I am compelled to keep up with the latest sounds to remain competitive in my studio work, the music that really gets to me seems to have been imprinted when I was a bit more impressionable. The astute listener will hear many an unconscious tip of the hat in many a melody, cadence or production of mine.
Ranked only in terms of alphabetical order (and sorted by first names.)
UK Bands
1. Beatles
2. Crowded House
3. Genesis
4. Led Zeppelin
5. Pink Floyd
6. Police
7. Queen
8. Tears for Fears
9. The Clash
10. The Who
11. U2
12. UK
13. Yes
US Bands
1. Boston
2. Fleetwood Mac
3. Journey
4. Kansas
5. Steely Dan
6. Dave Matthews
7. The Doobie Brothers
8. The Eagles
9. Toto
10. Van Halen (w/David Lee Roth)
R&B
1. Earth, Wind and Fire
2. Kool and the Gang
3. Madonna
4. Marvin Gaye
5. Michael Jackson
6. Ohio Players
7. Prince
8. Quincy Jones
9. Seal
10. Tower of Power
11. War
Singer/Songwriters (Male)
1. Billy Joel
2. Bruce Hornsby
3. Bruce Springsteen
4. David Bowie
5. Elton John
6. Jackson Browne
7. James Taylor
8. Joe Jackson
9. Kenny Loggins
10. Michael Ruff
11. Paul McCartney
12. Paul Simon
13. Peter Gabriel
14. Stevie Wonder
15. Sting
16. Thomas Dolby
Singer/Songwriters (Female)
1. Carly Simon
2. Carole King
3. Joni Mitchell
4. Shawn Colvin
5. Sheryl Crow
6. Rickie Lee Jones
Jazz Bands
1. Brecker Brothers
2. Chick Corea Electric Band
3. Dregs
4. Gipsy Kings
5. Pat Metheny Group
6. Rippingtons
7. Spyrogyra
8. Strunz and Farah
9. Yellowjackets
Pianists
1. Billy Childs
2. Billy Joel
3. Chick Corea
4. Dave Grusin
5. Dave Stewart
6. David Benoit
7. Derek Sherinian
8. George Duke
9. Herbie Hancock
10. Keith Emerson
11. Lyle Mays
12. McCoy Tyner
13. Ramsey Lewis
14. Russel Ferrante
15. Sha-rone Kushnir
16. T Lavitz
Guitarists
1. Dave Gilmour
2. Eric Johnson
3. Jimi Hendrix
4. Kerry Livgren
5. Larry Carlton
6. Lee Rittenour
7. Marc Bonilla
8. Mat Gurman
9. Pat Metheny
10. Robben Ford
11. Steve Morse
12. Steve Vai
13. Stevie Ray Vaughn
14. Toshi
Drummers
1. Alan White
2. Bill Bruford
3. Dave Hooper
4. Dave Weckl
5. Dennis Chambers
6. Jeff Porcaro
7. Manu Katche
8. Omar Hakim
9. Phil Collins
10. Phil Ehart
11. Steve Gadd
12. Vinnie Coliuta
13. William Kennedy
14. Ricky Lawson
Bass Players
1. Abe Laboriel
2. Edgie Sierra
3. Jaco Pastorius
4. Jeff Berlin
5. Jimmy Haslip
6. Larry Steen
7. Lee Sklar
8. Stanley Clarke
9. Steve Rodby
10. Graham Maby
Composers
1. Bach
2. Beethoven
3. Bernstein
4. Brahms
5. Chopiin
6. David Stern
7. Debussy
8. Gershwin
9. Mahler
10. Puccini
11. Richard Strauss
12. Rachmaninoff
13. Shostakovich
14. Verdi