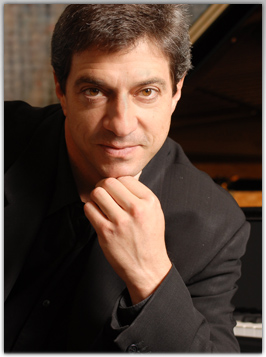 reviews
SPIRITUAL PATH by David Baugher for the St. Louis Jewish Light
ON ONE PAGE by Jacob Kameras for the NJ Jewish State
MUSIC MAN by David Suissa for the LA Jewish Journal
ROCK ON excerpt from Jewish Entertainment Magazine
HINENI by Talia Lakritz for Yaldah Magazine
SAM GLASER CONCERT STRIKES THE RIGHT CHORD
by Dan Ochman Chai Lites, Tampa, FL
Saturday night, October 21st, was a night to remember for members of Congregation Kol Ami and the entire Tampa Bay Jewish community. That was the evening that the first concert sponsored by and benefitting the Mike Eisenstadt Memorial Jewish Music fund took place. This fund was established through the TOP Foundation of the Tampa Jewish Federation in order to remember Mike and his wish that Jewish music and music education would always take place in Tampa Bay. The guest of honor for this initial event was Sam Glaser, one of the most popular and influential composers and entertainers on the Jewish music scene today. The show was fantastic, especially with the strong support of Kevin Frye and members of the Mike Eisenstadt band accompanying Sam. All who attended had a great time and everyone is looking forward to more of the same in the future.
Sam made good use of his time while in Tampa, singing with the children of the Kol Ami religious school, as well as the students of the Hillel School of Tampa. He also led a Shabbaton before the show which included an incredible Friday night service at Kol Ami. While he was here, Sam even managed to take in some unique sights to Tampa, such as spending Saturday night after the concert at Ybor City with Kevin, Alan Borden, Mike Binder and Dan Ochman, who obviously are not used to being out that late. Before departing town to his next tour stop on Sunday he went water skiing with Roberta and Fred Lipschutz and got a tour of the unique architecture that is the University of Tampa.
For those of you who could not attend or who were unable to purchase a CD that evening, information can be found at samglaser.com on ways to keep Sam's music in our homes. Contributions to the Mike Eisenstadt Simcha fund at Kol Ami are always accepted and will allow us to sponsor more of these wonderful events in the future.
Sam Glaser Rocks the LA Jewish Symphony
Jewish Image Magazine
by Herschel Rapchik
Sam Glaser is a true Jewish Rock Star. He sings, dances, leaps off the stage, tickles the ivories and keeps the audience in stitches with a well timed joke or two. He composes and produces. He tours the world in concert. There are few that can ably meld Hebrew liturgy with English lyrics with a groove that can satisfy such a vast demographic. As an avid Sam Glaser fan for a number of years, I was curious to see how his band might sound complemented with full orchestra. The L.A. Jewish Symphony was performing an evening of his work at the elegant 1500 seat art deco Alex Theater in L.A. The ads in the L.A. Jewish Journal boasted the seamless integration of a full orchestra, eight piece band, a sixty voice kids choir and an adult choir, all surrounding Sam at a concert grand piano.
Let me state for the record that this magical evening was perhaps the most sublime Jewish cultural experience I have had in recent memory.
Sam typically plays either solo or with his band in synagogues and JCC's during his annual fifty city tours. On this unique evening his resonant baritone and superbly crafted songs came alive with a black tie orchestra under the baton of Dr. Noreen Green. The patter in between songs made the music come alive as Sam took the audience on a journey through Torah, Jewish history, the Land of Israel, the Holocaust and a Jewish wedding thrown in for good measure. By the end of the second set the packed auditorium was on its feet and dancing and it appears he did a bang up CD business. I was particularly impressed that until the last few people were in the lobby, he took the time to autograph CDs and get to know anyone who approached.
I interviewed Sam at his recording studio in the heart of the nouveau-shtetl Pico Robertson in L.A. He seemed perfectly at home surrounded by the latest gear that he uses to produce both his CDs and those of his clients. He was dressed casually in khakis and a t-shirt, with his trademark tzitzit freely dangling. He was relieved that the orchestra show was behind him and excited to talk about his new Hight Holiday themed album, Presence. "I have been working on this project for three years now. I have been driving my musicians crazy!" he exclaimed. "I finally convinced my wife to let me binge for the last two months so that I could "wrap it" by the Conference for Alternatives in Jewish Education at which I perform each summer."
I left his home and immediately placed the CD in the car stereo where it has remained to this day. I don't think it is too bold to say that it is an entirely new level of sophistication for Jewish music and I get just about every notable CD that comes out. Presence has incredible depth, is soul stirring and covers myriad emotional fronts. It takes the listener on a fifteen-song journey that reaches all levels of consciousness; it starts singable and then just becomes more and more intense, tearing at your heart, and then at the end I'm humming along again. There have been times when I simply have to pull over to listen to a song, and my wife found me sitting in the driveway as it seems insulting to turn the CD off midstream. Sam reports, "Presence is like an extended prayer, the flip side of the more rockin' Bridge CD...the two sort of represent the yin and yang of my songwriting the past several years."
One of his upcoming stops is in Orange County, CA on December 7th, where he is the only entertainer that all twelve participating synagogues in the area could agree upon; this will be a Chanukah spectacular featuring over 500 kids taking the stage with Sam and the band. The 3000-seat Performing Arts Center is already sold out. Sam adds, "For most of my shows I just show up and take the stage...this one requires alot of work in the trenches with the kids, cantors, rabbis and teachers...but it's all worth it after seeing the incredible unity that is generated."
If by any chance have not yet experienced Sam's music, I urge you to visit his extensive samglaser.com website where you can listen to the music, check out his busy schedule and even see pictures of his three adorable kids. You will have me to thank.
Sam The Bridge Builder
L.A. Jewish Messenger
By Rabbi Baruch Cohon
Twelve students of widely different backgrounds sit around a table in the Aish Hatorah library, fascinated. Piloting them on their journey through the Sedrah of the week and some laws of Shabat observance ­ and illustrating his lesson with occasional anecdotes from his own life ­ is Sam Glaser, the man that motion picture star Kirk Douglas described as "bringing new life to Jewish music,". He's a self-made star of the Jewish music world. He was turned on to rock and pop and jazz in his early youth, and is as enthusiastic about what he's teaching these dozen people as he is when he performs for huge audiences.
His upcoming concert at the Alex Theater, Glendale, on February 9th will be special indeed. Instead of his usual gig ­ solo or with his band ­ he will appear with the Los Angeles Jewish Symphony conducted by Dr. Noreen Green, including a 20-voice adult choir and a 100-voice children's chorus along with Sam and his band in an all-Glaser program. I, for one, am looking forward to it.
It was some 16 years ago that Sam Glaser came to join my High Holiday choir. Today he remembers every Yontif melody, even sang one for his students. He moved from working with his father in the garment industry to build his first studio in a vacant clothing warehouse, and proceeded to compose and record music for himself and other performers. He organized a band and played dates at clubs like At My Place in Santa Monica, while pouring more and more of his boundless energy into his studio. "I live to record," he says.
While building a career in commercial music, Sam was also discovering the power of Judaism in his own life. A scholarship to Aish Hatorah in Israel started him on the road to an observant lifestyle which he not only maintains but enhances continuously, with the support of his wife Shira and their children. It was my privilege to participate in their wedding, along with several other rabbis. And I could read the depth of emotion in the face of the tall young man standing under the canopy in his white kittle.
All this time, however, Sam didn't consider Jewish music a serious idiom for him. Then in 1991 Stu Wax engaged him to write a theme song for Operation Exodus, celebrating the liberation of Soviet Jews. The song he wrote, called Hineni, (Here I am), was an instant hit. Sam was invited to the Conference of CAJE (Conference of American Jewish Educators) at USC, and was thrilled to perform for an audience of 2,000 ­ all of whom already knew his lyrics! That outdid any nightclub experience. He began promoting a new career, doing Shabbatons and performing what one fan calls "edu-tainment."
From then on the Jewish albums flowed out of Glaser Musicworks - A Day in the Life, Kol Bamidbar (Voice in the Wilderness), and so many more. His new release is The Bridge, in cooperation with the Common Denominator organization in Israel. This year he will launch it with an international tour, ending in Australia. Sam is convinced that we Jews all have core values that we share, with much more to unite us than to divide us. He credits his family with inspiring his effort to include everyone in his message, just as he makes sure to include all of his audience in every performance.
Anticipating the concert at the Alex Theater, he says he's a nervous wreck. So different from what he's done before. How different? It will include more musicians, more singers, and hopefully a large audience to share his message and his infectious enthusiasm. More work for him, definitely. But we are lucky. All we need to do is show up and sing Hineni!
"Soft-rocker Glaser Makes Even Dr. Laura Cry"
Wisconsin Jewish Chronicle
By Nadine Bonner of the Chronicle Staff
The accolades on Sam Glaser's publicity material are impressive:
"I can't wear mascara - your CDs make me cry each time I listen" claims that hard-boiled radio personality Dr. Laura Schlessinger. I was intrigued. "What do you call your music?" I asked him during a telephone interview from his home in Los Angeles. His CDs hadn't arrived yet, and the links on his web sites that were supposed to offer samples from his albums weren't working. "Is is pop? Or rock?" "Yes," he replied. Indeed, I discovered when the CD arrived, Glaser's music rocks, but softly. For Jewish music connoisseurs, Glaser's rock is not as hard as Lenny Solomon or Milwaukee's Mark Skier. And it has a very American quality - without the Hasidic backbeat of Avrum Fried or Mendy Wald, the stables of the Orthodox circuit.
For his lyrics, Glaser draws on both Jewish liturgy and his own Jewish experiences. Having moved from a secular but committed Jewish Californian background to a more observant lifestyle, his lyrics reflect many of the lives of his listeners. Glaser will be bringing his mixture of Jewish pop/rock to Milwaukee Sept. 11-12. As the scholar in residence at Congregation Beth Israel during Shabbat, he will speak at a family dinner after Friday night services and during Saturday morning services. Saturday at 8:30 p.m. he will perform his "One Hand, One Heart" concert, part of his international Unity Tour.
The multi-talented Glaser owns and operates a recording studio, produces albums and writes music for television. He admits that scoring music or producing other performers is more lucrative financially, but performing and giving workshops for Jewish groups is what feeds his soul. He said he does about 80 shows a year, mostly in Reform and Conservative synagogues, at banquets and fundraisers.
Making a difference:
Glaser just returned from the Coalition for Advancement in Jewish Education conference in Texas, which "gives me an opportunity to see the net results of what I do." Participants, he said, related "the difference my music has made to their students and to their own personal growth in Judaism. It's such a priviledge to have a part in their stories."

Glaser noted, "I was born and raised singing and performing with a musical family." But the Jewish quality to his life and music kicked in later.
In 1985, he went to Aish HaTorah, a Jerusalem yeshiva geared toward students with limited or no Jewish background. "It was the first post-bar mitzvah experience where I realized the value of Judaism as an adult," he recalled. But even that experience just planted a seed, which, he said, sprouted through his involvement wit the Los Angeles Jewish Federation and Operation Exodus - a national fundraising campaign sponsored by the federations to bring Jews out the former Soviet Union. The fall of the Soviet Union triggered Glaser's Jewish identity. He had already recorded several secular albums and began writing Jewish songs that were recoded by other Jewish singers, most notably Craig Taubman.
"I realized that I could potentially have a market if I did it on my own. Jewish music offers the redeeming value of coming to a community and touching them with music and words." He adds, "It's so different from just playing love songs to a crowd that doesn't care" In 1992, he recorded "Hineni," which became one of the best-selling Jewish albums of the year. Since then, he as produced many other albums, including "Lullabies and Jitterbugs" for children and the popular release, "Across The River."
Recently, the Orthodox Union asked Glaser to produce a tribute to the late singer/songwriter Rabbi Shlomo Carlebach. Called "Tribute," the recording features a variety of popular Jewish performers in addition to Glaser singing Carlebach's music.
"I've seen so many people across the country who were profoundly influenced by him," Glaser said. "I was his accompanist when he came to L.A. I was affected not only by his great music, but his great Torah."

Learning Torah has changed Glaser's lifestyle. In 1992 he began wearing tefillin and observing Shabbat. He admitted that is is often a challenge on the road "being in new communities, dealing with kashrut." "But I've just learned to make it work. I feel that the last thing we should do as Jews is remain isolated. I don't allow these things to isolate me."
Now that he and his wife, Shira, have two small sons, he said he tries to be home every other Shabbat. Still, he said that bringing his message to Jewish communities is worth it. "It feels like I'm doing what I was meant to do." Cost of the dinner at Beth Israel is $12.50 for adults, $6 for children 4-10 and $2.50 for children 3 and under. Concert tickets are $10 in advance and $12 at the door. For more information, call the synagogue, 352-7310.
Sam Glaser Live in the Mile High City
Denver Intermountain Jewish News
By Deborah Sarna
In a time when the emotional strain of the senseless violence, terrorism and turmoil ruminating in the Middle East runs high, composer/musician Sam Glaser holds steadfast in his efforts to draw Jews together through the power of music. Glaser's sixth Jewish album, titled "The Bridge," and the 50 city concert tour bearing the same name, reverberate the message that now, more than ever, Jews must strive for unity, regardless of affiliation, age or gender. Next Thursday, Jan. 16 ,the opportunity to join together and share that vision will happen when Glaser performs at Temple Sinai in Denver.
Glaser's worldwide popularity as one of the top Jewish recording artists is two-fold. First is his ability to blend just about any music style (jazz, pop, rock, doo wop or ballad) with thought provoking lyrics. Second is his ability to connect so effectively with his audiences. With the release of "The Bridge" last August, Glaser focuses on the importance of unity within the Jewish People. Co-sponsored by Common Denominator, an organization based in Israel which promotes awareness and tolerance of Jewish diversity, "The Bridge" is a compilation of fifteen original titles highlighting fifteen Jewish principles that bind Jews together. Previous albums, such as "Hineni," "Across the River" and "A Day in the Life" also showcase Glaser's original compositions; while "The Songs We Sing," released in 2000, treated listeners to Glaser's personal interpretations of beloved traditional Jewish melodies.
With the backing of his eight-piece band, Glaser records his tracks using sophisticated layering techniques that he has perfected. It is in his state-of-the-art recording studio that Glaser's technological genius merges with a keen ear for just the right mix of instrument, synthesizer, and vocals. I had the opportunity to witness him in action: seated behind glowing computers and keyboard, he works magic that dazzles his listeners. And dazzle he does. What makes Glaser's recordings unique is that they can be appreciated by so many. Even the youngest listeners identify with Glaser's spirited beat and all out energy.
There is an underlying inspiration gleaned from Glaser's on-going Torah study which speaks to those in his audiences who are searching for something more. Glaser's music is a reflection on a the changes in his life during the '80's. "During several trips to Israel from '85 to '90, my interest evolved from a detached 'anthropological' study of our heritage into more of a diving in the waters, " shares Glaser. Indeed, Glaser's ability to inspire comes from the fact that his work is from his heart and soul and that so much of what he hopes to communicate comes from his everyday experiences as an observant Jew and a student of life. "I have spent the past 12 years attempting to incorporate Judaism/G-d consciousness in my every waking minute," explains Glaser. " It's inevitable," he says, "that with the system of mitzvot as handed down through the generations, Torah seeps into one's creativity. I believe that if you live and breathe it, when you attempt to align your will with that of G-d's, you begin to sing G-d's music."
Coupled with Glaser's energy and charisma, his concerts are punctuated with his casual conversational style. Between numbers, stories of his family life, the inspiration for a particular song or a highlight of his visit to the city in which he is performing are offered as if he has known the faces before him for years. He finds tremendous gratification in meeting his audiences. It is quite common to find him autographing CDs and chatting with people after shows.
In addition to his musical career, Glaser finds satisfaction as a dynamic speaker on numerous Jewish topics. He regularly appears to standing room only crowds at the annual convention of the Coalition for Advancement in Jewish Education. He facilitates a weekly class, "Seasons of Joy," back in LA. He sports an accomplished resume, as is illustrated by the fact that he has served as Executive Director for the Jewish Music Commission, Music Coordinator for the University of Judaism and Musical Director for the West Coast's premier Jewish youth theater group, Yad B'Yad.
Living in LA's predominantly Jewish Pico-Robertson community with wife, Shira, and their three children, Max, Jesse and Sarah, Glaser finds the love and support which enables him to further expand his involvement with his music. Transcending the role of composer, Glaser is also at the helm of Glaser Musicworks, a label he established as an efficient means for producing, marketing and distributing his albums. Glaser's days performing in the secular music scene are also still evident. He is well known in Hollywood music circles, and between albums and his busy tour schedule Glaser scores for television and produces secular albums. Yet, Glaser's connection with his Jewish artistry is his first love. He explains, "my Jewish expression is what keeps my brain firing all night with melodies I awaken from dreams recalling."
Glaser is scheduled to perform two shows next Thursday at Temple Sinai. The first show will be for Temple Sinai Hebrew School students and his 7 pm show is for the entire Denver community. Questions concerning Glaser's appearance and ticket information may be directed to Temple Sinai's Walli Richardson at 303-759-1827.
The Future of Jewish Music: Sam Glaser
L.A. Jewish Voice
By Eileen Burke
Sam Glaser has been a fixture on the Los Angeles Jewish music scene for years, spreading his enigmatic blend of biblical lyrics and heartstopping rock and roll in three solo albums which paradoxically blend Judaism's most profound wisdom with cutting-edge contemporary music. His captivating style and comet-like rise in nationwide popularity are due to a mixture of many variables, including his innovation in arrangement, his connections with the best backup musicians Hollywood has to offer, and his self-effacing warmth which seeps into everything his sings.
Sam welcomes a visitor into his elegantly appointed home, in the yuppie-and-coming Beverlywood neighborhood of Los Angeles. The Shabbos "blech" (stove cover) is still out, lilies grace every room, and the silver of the Shabbos candles sparkle. But he escorts his visitor straight into the bathroom...to meet his obviously favorite treasures, sons Max, 3 1/2, and Jesse, 2, preparing for bedtime, and wife Shira, in mommy clothes of sweatshirt and baseball cap.
The living room of Sam and Marcia's home says a lot: it is dominated by a massive ebony Steinway grand piano and a double stroller, symbols of the two passions in their life. Balancing the muse and the babies has been a struggle. He felt compelled to build a state of the art recording studio in his garage, so the obsessive work of musical creativity wouldn't come between him and his family.
Sam grew up in a musical household, to a conservatory-trained mother and father who played the trumpet. He attended Castle Heights school, just blocks from where he now lives, and graduated from Palisades High School in Pacific Palisades. As a seven-year-old third grader, he began writing poetry for a class assignment. When his mother tried to put the cadences to music, he corrected her, and dictated his first compositions. By the time he was eleven, he had recorded his first album of original songs. "I had twenty songs that I had put together that I would play for anybody who would listen," he recalls. Music lessons were compulsory, and "I practiced every day until I cried, and I am eternally grateful."
He was weaned on a myriad of musical influences. He loved rhythm and blues, musical theater and jazz and listened to the Beatles, Tower of Power, War, Earth Wind and Fire, Yes and Kansas during high school. He was passionate about pianist/songwriters Stevie Wonder, Elton John and Billy Joel. In high school, a teacher doubled as a piano bar performer, and snuck him into smoky clubs giving him his first real taste of performing when he was only 15 years old. "He was able to get me to improvise. Finally, I was able to get all these melodies out of my imagination and into my fingers." As a youngster, he remembers it being absolutely surprising to find out that other people didn't hear complete compositions in their heads. "I have always heard symphonies ­ I thought that was normal," he says. Completely arranged songs come to him effortlessly, and he just works out the details after recording them into with a strategically placed walkman which he carries around and puts by his bedside. About half his compositions appear to him in dreams, he confides.
Sam pauses for a moment to hug Max who has finished his bath. He stops to make "havdalah" for Marcia, and his resonant voice booms out the traditional prayer, bouncing off the white ceramic tile in the kitchen. Max and Jesse share the spice box as the golden glow of the flickering candlelight reflects on their intent faces, still infused with the departing Shabbos.
That trademark resonant voice, thunderous and gentle at the same time, and the warmth which permeates every word of his songs, is natural and understated. That voice was trained in opera in college, and gives him a marathon stamina. "I've been leading prayers for the high holidays for years. I'm doing "pesukei dezimrah" (early morning opening prayers) through "neila "(evening prayers closing Yom Kippur) as well as blowing the shofar. My voice somehow grows stronger throughout the day. No food, no water!" Even he sounds amazed.
After college in Boulder, Colorado, Sam joined a successful band for a year and studied film scoring. Then he received a fellowship to study at Aish HaTorah in Jerusalem. It was the beginning of a long road back to his Jewish roots. "It was the first time I was ever asked to reassess my priorities in life. The majority of us go through life without asking ultimate questions." So he took what he thought was a free trip to Israel; six weeks in Jerusalem's Old City seemed like it would be paradise. He paid little attention to applying the religious teachings, but they paid attention to him. "Torah resonated so soundly inside me. If you are not ready to take on "mitzvot "(commandments), well, it's insidious. It festers." He became one of many young people on this program who "suddenly, they have a concept of the value of their heritage, instead of some nebulous chicken-soup style attraction." That six-week trip lasted four months. It could have lasted more if he had not run into the Jewish tradition of counting of the "Omer", when Jews in Jerusalem refrain from listening to music. "I was itching to get back to my recording studio, and no one wanted to hear me play music for a few months." So he winged back to LA, and eventually formed Sam Glaser and the Thursday Night Band.
Sam and Thursday played the club circuit, Club Lingerie, Sasche, and At My Place in Santa Monica, and recorded three albums with the band. But his father wooed him with a job in his sportswear manufacturing company, where Sam managed international manufacturing and distributing. Every month he travelled to another exotic locale: China, Taiwan, Hong Kong, Sri Lanka. Europe several times a year. Even Israel, where the firm had two locations. But despite its allure and his success, music was his passion, and he was known to sneak off mid-day to his studio built in one of the warehouses.
Through the garment trade, he began to compose scores. He began with informercials and jingles, including work for Jordache and ESPN. He never looked back, and still makes half of his income from scoring television. His latest coups include scoring the new Dodgers theme, "Dodger Blues," and the ad campaign for the Wherehouse chain of record stores. He does game shows, dramatic TV. He just completed a docudrama for PBS. If you turn on the TV, you've undoubtedly heard Sam's scores without realizing it. But, "the Jewish stuff is clearly my passion," consuming 90% of his energies. For years he has produced the prestigious American Jewish Song Festival and was named Executive Director of the Jewish Music Commission. He also opted to reach young people as the musical director of the Yad b'Yad theater troup, which has performed several Glaser-composed musicals.
His own spark was reignited on another trip to Israel in 1991, this one an invitational seminar for Jewish composers around the world sponsored by the Center for Jewish Culture and Creativity. He found himself arguing the religious point of view with secular students in the same program. A mentor advised him to choose one mitzvah, one he could dedicate himself to wholeheartedly, to enable him to take Jerusalem back home with him to Los Angeles. His choice? Tefillin. "I dusted off the tefillin I got as a bar-mitzvah gift. I hadn't put them on in the sixteen years since. I opened the prayer book to the Shma. The phone rang." He stopped himself from answering it, telling himself, "this is my time to talk with G-d." He then overheard the answering machine recording a message; a TV producer was calling to report that he had been given a Sports Channel music contract. "I'll try this again tomorrow!" he thought and has been putting on tefillin daily since.
His road back to observant Judaism was cemented when he met Marcia in 1992. "I don't think I would have made it if she hadn't been in my life." They were hooked on the Pico-Robertson neighborhood, and they both fell in love with the Aish HaTorah community "I just flipped out over what I saw: a community which is a thousand-member family. People care for each other. The outpouring of kindness is unbelievable. As my wife and I were taking each other more seriously, we began looking at these families as living examples of the potential of Jewish life." Families are now the main focus for his musical lens.
Sam plays concerts in over fifty cities around the country each year, like the two-week tour of the east coast which he just concluded. More often than not, he plays to Reform and Conservative audiences. Many of his engagements are for concerts following shabbatons where he teaches Torah and leads prayer by day, and then sings at night. He translates. He explains. He cajoles and coaches and encourages. Frequently the children in the audience receive a Jewish education at school only to find themselves facing a brick wall of ignorance at home. That's why he emphasizes "family education," attempting to bring under-educated Jewish parents into the act by infusing them with enthusiasm for observance and idealism that he finds so easy to ignite in the children. He jokes about the phenomenon of "pediatric Judaism," or people who return to their roots because of their children. Nevertheless, he realizes that it is a motivating factor for many of his listeners. "The way kids learn is seeing it done," he teaches. "I play at so many Hebrew schools. I have one day to make an impression. I try so hard," he confides, as if the whole word rested on his being able to affect change in his young charges. Modestly, he admits, "I get invited back, so I must not be coming on too strong."
His enthusiasm is contagious. He has turned two of his brothers toward Torah, and they both live in Israel and study full time. One has become a Breslov Chassid. The other has just become a rabbi at Aish HaTorah in Jerusalem. His parents have become Sabbath observant and are now active at the Chabad of Pacific Palisades.
Although Sam is not a rabbi, as a minstrel singing biblical verse, "I find myself being looked at as a spokesman for the faith, with all the liability that comes with it." And he has passionately absorbed the teachings of many rabbis out of necessity to field the challenges and questions of his audiences. "I started learning in order to become a maven." Although versed in the finest classical secular literature, he reads nothing but Torah-oriented books now. "I just have to know my stuff, " he says, ticking off the works of Aryeh Kaplan, Ezriel Tauber, Luzzato, Solevechik and Kook among those he has voraciously consumed.
The songs themselves make it necessary to educate, he says. His song "Lulav" allows him to explain how during the Succot holiday in Jerusalem secular and religious Jews dance together ecstatically in the streets. "V'haer Eyneynu" "(Enlighten our Eyes) compels him to convey the majesty and passion of the Jewish love for learning Torah. In a classroom setting, he has taught an "Introduction to the Music of Prayer" at the University of Judaism for years. He also teaches his "Five Levels of the Soul" at seminars and Shabbatons, challenging people to connect with the spiritual side of their being.
The reason the songs on Sam's three Jewish CDs seem to captivate and motivate is that they are so real. "I fill my life with this stuff, and that's essentially what comes out." His last album, A Day in the Life was essentially about prayer, "I was living and breathing prayer," in order to educate himself to pray more effectively. A Day in the Life is a musical trip through the human psyche on a given day, with an enthusiastic outbreaks, magnificent highs, and anguished lows. That 1995 album contains a haunting Holocaust-remembrance piece, "Born to Remember," which recently received its first symphonic performance since it was arranged it for full orchestra.
His newest release is called Across the River, and represents "a year in the life," focusing on lifecycle events like weddings and births, as well as the Jewish holidays. It's his attempt at producing a cohesive work from the creme of his latest compositions. He had 35 candidate songs for inclusion on the album, and fewer than half survived. "I wanted this to be the "Goodbye Yellow Brick Road" (the classic Elton John 70's album) of Jewish music." he says, ambitiously. He even patterned the artwork for Across the River after the Elton John album jacket. Sam is thrilled that his "Asher Bara" from his latest release seems to be breaking through to the elusive east coast yeshiva world. And his "Mi Chamocha" was featured as the pick of the week on the www.jewishmusic.com website.
These two albums have added significantly to his popularity since the release of his best-selling Jewish debut Hineni , and his many fans in Hollywood gush over the depth of his work. Kirk Douglas is an avid fan, and unabashedly claims to sing Sam's "Modeh Ani" in the mornings. The late TV mogul Lou Rudolph would call him from his car, with "Oseh Shalom" blaring in the background. Producer of the Roots and Rich Man, Poor Man miniseries, Rudolph was quoted, "Five minutes of Sam's music takes me to the spiritual level of five months of learning with a rabbi."
In his community, Sam reaches out by teaching, as he did by leading the recent "Shabbas Across America," where unaffiliated Jews telephoned an "800" number and made reservations for his extended Shabbat table at Aish HaTorah. Or via the "Bart Stern Shabbat" program, named in honor of a charitable legend who recently passed away, which attracts over two hundred young singles each month. For those less than comfortable at a fast paced Orthodox service, Sam recently instituted the new "Understanding Minyan" every other Saturday morning at Aish.
He relates to the challenges of those unaffiliated Jews testing the waters of faith for the first time, "the hardest thing about the concept of G-d is understanding Him to be more than a 'force of nature'...to see G-d in your day-to-day life, that's a big challenge." Sam explains, "for me, to have a concept of G-d in my life on a day-to-day basis is not quite as hard, because of these songs that just come to me. Secondly, I don't have a 'day job'... I guess it's easier to see that I'm dependent Hashem for everything. "Emunah "(faith) is easier to come by for a musician."
The challenge to explain the universality of Sam's appeal, and his unprecedented effectiveness with teaching, seems very simple. "A lot of my songs are prayers," he adds, saying, "a prayer is any music that comes forth that is directed toward the Divine." Sam continues to reach out to the divine in all of us.
Tidewater enjoys "soulful" music of Sam Glaser
Southern Virginia Jewish News
By Karen Lombart, Co-chair United Hebrew School
Have you ever been in a room that fits 400 people perfectly and every chair is taken? It happened on Saturday, Feb. 8 in Beth El's Myers Hall, which was filled to capacity for the Sam Glaser concert.
Four hundred members of the Jewish community waited in anticipation to hear the soulful music of Sam Glaser. The variety of songs that he performed catered to his diversified audience with children as young as a few years old and adults as old as 91.
With the lights dimmed, Sam Glaser sang as he played the grand piano and his magic filled the hall in song. His lyrics painted historical scenarios and beautiful prayers. He also entertained with favorites that he had rearranged into his own original melodies. Among his selections were "Modeh Ani" and "Born To Remember" from his CD A Day In The Life. From his CD Across The River, he sang "Lulav" and the title song. "Hineni" was the song that the enthusiastic students requested from his album Hineni.
The United Hebrew School was thrilled to bring this artist to Tidewater. He spoke to the students during and after the morning service in the all day long Shabbaton. Glaser was able to convey to them messages that go beyond the classroom textbook. His accumulation of knowledge left the students in awe. He acknowledged that study can sometimes be frustrating and boring - but a necessity. He also said that prayer should also be an integral part of each day. In order to increase the children's spiritual awareness, he spoke to them about the mechanics of prayer. His being proud to be Jewish was shared in all of his talks. As the day ended in concert, Sam Glaser was able to reach the hearts and soul of the students through conversation and song.
The children at the Shabbaton came to celebrate the day as part of their Jewish identity. In services and in conversation, Glaser was able to talk to them as individuals. During the afternoon of sports, the students stayed together as a group of 80 children doing "Shabbat" appropriate activities. And, in the evening concert each student became a part of his family unit and also part of the larger Tidewater community.
The day was rich with joyful experiences. Many thanks go to The United Jewish Federation for its support of this wonderful event and to all the families whose generous donations made the evening concert possible. The events of the Shabbaton will serve to strengthen the children's Jewish identity. The day was truly memorable.
As I Heard It/Kol Bamidbar Review
Syndicated Music Column
by Morton Gold
I have reviewed several of Sam Glasers CD's in previous columns and this column will be devoted to a review of his latest. On balance it would be fair to state that Mr. Glaser is an individual of great talent, both as performer as well as composer, and his talent shines through in his latest effort, "Kol Bamidbar: (A Voice in the Desert) A Musical Journey Through the Five Books of Moses." Mr. Glaser is the soloist in the thirteen songs he has composed for this CD. He is assisted by by a children's choir as well as a group of professional musicians: Larry Steen, Mat Gurman, Dave Hooper, Cassio Duarte, Michael Lington, Leo Chelyapov, Warren Ham and Tollak Ollestad. (It is instructive that the guitarists and percussion players are listed first and the clarinetist, saxophone and harmonica players last.) In addition to Mr. Glaser, "background" vocals are performed by Evan and Jaron Lowenstein as well as Ramiro Fauve.
Since is desirable to give the CD a theme, because in reality there is one, nevertheless to label the CD a "Musical Journey Through the Five Books of Moses" is a stretching things a bit. The target audience for this CD are children of elementary school age for the most part, especially those raised in the Sesame Street neighborhood. This is not a put down at all because really good material for this age group is fairly thin. Kids are really turned off musically speaking because they are experiencing things Jewish from a perspective that is unfamiliar to them. This music brings them to understand the biblical stories from "where they are," and as such this CD is on target and it succeeds.
My reaction to the individual songs are as follows: No. 1, "My Letter In The Torah." The chorus is "catchy" in a pleasant way, the verses are good but not memorable. The style for this song and for the majority may be described as an agreeable kind of soft rock. Mr. Glaser's voice is well suited to his material and his lyrical baritone presents his lyrics in a sympathetic and even in an artistic manner. I have always felt that his lyrics were usually superior to his music, but that this time around, the musical significance, particularly in the chorus as opposed to the verse and really improved, to the point where many of the can stand on their own feet. The booklet states that the music on the CD was "composed, produced and arranged by Sam Glaser." The composer modestly omits the fact that he also wrote the lyrics, and it is the lyrics, often more than not puts the music across. The 2nd song is "The Seven Days." The music here is suggestive of two tunes from Jerry Bock's "Fiddler." While they may be a point of reference, this original song is very good just the same. No. 3, "Two by Two" I also liked very much. If this is an endorsement, so be it. This is one tune that parents can sing with their kids. The pair of Hebrew lines is a real plus here. Most enjoyable.
No. 4 is called "Across the River." This one is both tuneful and educational as well. There is a commendable section where the tune of the chorus is sung by the children in English with the Hebrew verse sung by Mr. G is used as counterpoint. The effect is salutory. No. 5 is called "Keep the Dream Alive" and continues the pattern and style of the previous songs. It makes the story of Jacob and Joseph understandable to young children. Again most enjoyable. No. 6 is called "Unbreakable Soul." I half expected to hear a chorus of "Matilda" follow the introduction but what Mr. Glaser composed was infinitely better. No. 7, "Kol Bamidbar" starts off with a shofar call. Mr. Glaser is at his most charismatic here. There may be too many words here, but the music propels them. No. 8 is called "Kol Anot." Again this song uses another song (by A. L. Weber) as a starting point but improves on it, much is the way that Handel and other composers did. It matters not one whit that the genesis was, the song is impressive just the same. The key I would observe is far too low for Mr. Glaser and I suspect he chose it to accomodate the children. He may have been between a rock and a hard place on this, but I would have tried to use kids with wider ranges. I know very well the average kid can barely sing, and these kids do well to be sure, sing musically and in tune so he had to accomodate them. Still...
Song No. 9 is called "I Count." This lively, jivey tune will lmake children of all ages happy. There is some impressive harmonica playing here. (Warren Ham.) As for song No. 10, Bingo! Attention ladies and gentlemen, Vee Haf a Vinner. This is one tune that kids, Western Civilization Kids weaned on rock and roll can identify with and more happily sing in Hebrew School. OK, mayble not Orthodox Hebrew Schools, but it is good, indeed very good. In fact it is better than very good, it is "socko." Song No. 11, "Milk and Honey" may not be quite as winning as the previous one but it is good as well. There is imaginative two part singing at the end. Song No. 12 "V'kareyv P'zureynu" may be described as Klezmer meets Rock. These different genres can coexist and here do so quite agreeably. (Yes, the intro does remind me of Granada, any other questions? Again the familiar is used as a possible point of musical reference.) The only question I would raise is the closing instrumental jam session. It adds nothing to the song and even causes the bloom to fade from the klezmer rose. The last song is billed as a bonus track "Bat Mitzvah Song" and has nothing to do with the theme of the CD. It is a charming song, but the through composed style, though effective, leaves me unsatisfied. A brief reprise would have helped. This is more of an observation on my part than anything else.
To sum things up, this CD is a happy union of rock style music (in the same way one differentiates kosher vs. kosher style.) The music abets understanding of a genuine Jewish biblical message. It is the kind of music that most American Jewish children can readily identify with. Where it is good, and mostly it is all very good, it delivers its educational impact in a way than can be understood and readily digested. It sounds American because it is. The language is familiar musical language and thus the message of the words comes through with vigor and clarity. In this CD Mr. Glaser may be taking up where Sholomo Carlebach left off. He is growing and maturing as a creative artist. Personally I wish he would write fewer words and more notes (see No. 10.) Still, the music is infectious and this CD would make an appreciated gift for all Jewish children from kindergarten through middle school. It is both hip, cool and honestly Jewish at the same time. If you want to obtain it, call: 1-800-9-SammyG
Musical Musings/Kol Bamidbar Review
By Teri Seipel
Cross Reaction
When asked to review the new Sam Glaser album, I was a bit apprehensive - here I am a "goy", a Catholic, and one non-conversant in Hebrew - ee gads. Still, I was honored and humbled to be asked to share my take on his newest release, "Kol Bamidbar." And why shouldn't I offer a review? I host "Cross Reaction", a radio program featuring contemporary ritual liturgical music utilized predominantly within current Catholic liturgical and devotional practice.
"Kol Bamidbar", subtitled "A Voice in the Desert," is the fourth in a series of Jewish-themed collections by Sam. Along with three of his previous collections, "Hineni", "A Day in the Life", and "Across the River," "Kol Bamidbar" frequently receives airplay rotation. Why on a Catholic program? Simply, it's just plain good listening music. Why else? It offers musical settings of sacred texts and explores and highlights events of Jewish life cycle and historical events. Both Jewish and Catholic liturgy relies on a retelling of texts that have passed from generation to generation. Each adds their own idioms and forms of expression, adding a fresh recounting of passages heard cyclically. Sam has done a great job retelling the stories of the Torah.
Sam incorporates children's voices throughout "Kol Bamidbar", and thereby make is clear that the point of the collection, to instruct youth in the inheritance and practice of their faith, is taken seriously and purposefully. Sam truly succeeds in getting the point across that the children are the future.
"Kol Bamidbar" begins with "My Letter in the Torah", reflecting on a young person's (or any person's ) often asked questions, "why am I here" and "where am I going." The latter question is answered though the course of the album, as one travels from here, (wherever one finds him or herself) through "The Seven Days" of creation, the story of Noah, "Two by Two", and travels "Across the River" with Abraham. Then one relives the story of Joseph in "Keep the Dream Alive", slavery in Egypt, "Unbreakable Soul" and the giving of the law on Mt. Sinai in the title song "Kol Bamidbar." The joy of Sinai segues immediately into "Kol Anot" which poignantly describes the tragedy that is the golden calf. Humanity inevitably leaves the mountaintop.
"I Count" sums up the aformentioned question"Why am I here?". A kicky little doo-ditty reminiscent of "Hand Jive" by Johnny Otis, "I Count" recalls the census in the desert and reminds, "there's no one just like me, got my place in history." Eventually, through hard work and prayer, one arrives in the land of "Milk and Honey." It is there, in the Promised Land, that the ultimate destination is realized - oneness with one another and with G-d.
Ok, so besides being great music, why else is Sam's music often included on my playlist? It's a great testament to the strength of current Catholic/Jewish interfaith dialogue. Sam's music mirrors much of what's taking place within Catholic compositional circles, and could be readily incorporated within Catholic liturgical practice. The direct setting of biblical texts to melodies is a predominant feature of contemporary Catholic liturgical music, as is the interspersing of bilingual phrasing, particularly Spanish, Latin, Vietnamese and as Sam would have it, Hebrew.
So too, "Kol Bamidbar" reminds me of "Children of Eden" which features music and lyrics by Stephen Schwartz who composed for "Pippin" and "Godspell." "Children of Eden" (BMG Music) features musical settings of the stories of creation, the flood, and the wilderness. A section of the chorus in "Children of Eden" is even named the "storytellers." Again, to show the inter-religious ties, the ever-popular Catholic artist Marty Haugen's first song on "Tales of Wonder" is "The Storyteller."
Music is truly a universal language. To be catholic is to be universal. In Sam Glaser's "Kol Bamidbar", all that is spoken by G-d is truly universal. Toda rabah Sam for a voice crying so wonderfully in the desert. The desert soon will bloom!