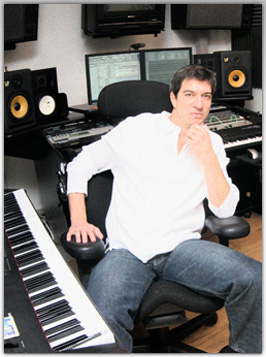 recording studio
FULL-SERVICE RECORDING STUDIO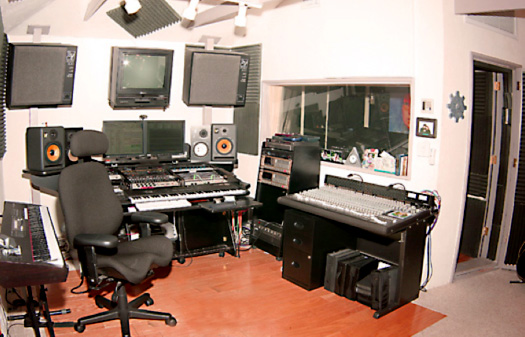 Create Your Masterpiece at Glaser Musicworks!
At Glaser Musicworks, we have a passion for identifying and creating a unique voice for each individual project, regardless of scope, deadline or budget. With equal grace we traverse all musical styles including urban, jazz, orchestral, hip hop, folk and rock n' roll. One of Glaser Musicworks' specialties is the realm of spiritual Jewish music; from Jewish rock, jazz and folk to cantorial music and storytelling, Sam Glaser is one of the most experienced and trusted producer-arrangers in the business.
We welcome hands-on interaction with our clients at our state-of-the-art recording facility located just south of Beverly Hills, California. Our staff of engineers and musicians is among the best that Los Angeles has to offer. Out-of-town clients are accommodated with a consistent adherence to deadlines and step-by-step mixdowns to monitor the process.
Sam Glaser is a triple threat in the studio: as producer-engineer he excels in bringing out the best in each artist. He knows when to push, how to maximize a performance, how to transcend limitations. He collaborates with the client to establish a precise vision for each song and works with remarkable technical efficiency to achieve that goal. As an accomplished vocalist and vocal coach he can customize warmup exercises and suggest ideal phrasing, breathing, harmonies and voice preservation/restoration techniques. With his arsenal of the latest music-based hardware and sofware, as a piano and synthesizer wizard he can create vast soundscapes and emulate virtually any instrument and music style.
Having produced hundreds of albums allows Sam to accurately estimate recording costs and manage every detail of the process, saving the artist lost time and frustration. Budgeting and invoicing is handled in a clear, "no-surprise" manner. From the first pre-production meeting to offering advice on the optimal distribution of the final product, Sam takes the success of his clients very seriously.
Services Offered:
• Album Production
• Film/TV/Game Scoring
• Voice Coaching
• Industrials
• Childrens' Music
• Infomercials
• Custom Library Music
• Commercial Spots
• Audio Restoration

Words of Praise:

"Sam Glaser is the "go-to" guy for all our custom promos…he combines the technical ear of an engineer with the artistry of a musician. There is no genre or deadline that he can't handle with ease."
–Jymm Adams, Director of Marketing, WB Television Los Angeles
"Glaser Musicworks is a full service, pedal to the medal music studio. Sam Glaser is totally professional, experienced, versatile, creative, friendly and energetic. I've brought Sam the most challenging projects of my nearly two decade producing career: demos with 24-48 hour turnarounds; fully produced and mixed a capella tracks; and an international pop music anthem collaboration, uniting 100 stars from 5 continents."
–Jordan B. Gorkfinkel, Producer, Songwriter, Vocalist
"Working with Sam on Visions' fourth album was an incredibly positive experience thanks to his personality, expertise and attention to detail. As a producer, engineer and arranger, Sam had the talent to know what each song needed musically and patiently worked with our MANY demands to ensure that everyone was happy. Sam's suggestions were always right on the mark and he always kept our budget in mind. He is truly a master in his studio whose talent, reliability and clear communication made our experience flawless and our latest CD an amazing commercial success."
–Loren London, Manager of Visions
"Your studio felt right from the moment I arrived. Thank you for everything...I will keep you posted for the wrap party of our pilot episode!"
–Sandy Watson, I Wrote That! Children's DVD Series
"Sam Glaser is more than an amazing producer and recording engineer:
he patiently helped me shape my vision, added his beautiful creativity and kept my dream of completing this CD on track."
–Karen Golden, Musician/Storyteller
"Sam is a consummate professional with a beautiful studio that is not only a serious place to work but is also relaxing and fun. Sam always pulls the best vocals out of me, whether I like it or not. He does it till we get it right!"
–Judy Winegard, Vocalist
"Working with Sam on my CD was a great experience on so many levels. He's not only a knowledgeable producer with great ears, but he has an incredible soul and infused my project with a sense of warmth and dignity. Thanks to Sam's connections with studio musicians in LA, we had world-class players on the project that were as friendly as they were talented. Finally, having Sam produce my vocals was like working with a great vocal coach – he helped me to find new dimensions in my delivery."
–Cantor Evan Kent, Temple Isaiah, Los Angeles, CA
"Thanks to Sam Glaser, my new storytelling CD is a wonderful, professional product. After calling and interviewing one company after another in the Florida area, I finally called Sam to see if he'd consider producing my CD. Not only did he have extensive experience recording storytellers and blending stories with music but also his suggestions and vision for the recording matched my own dreams. The recording process itself was honoring and respectful, with Sam always there to instruct and support me…I am forever grateful and indebted to him."
–Janie Grackin, Professional Storyteller
"I love working with Sam. He is fast, fun and a complete professional. Thanks to his clever editing and musical ear my most recent voiceover demo has maximum impact and has gotten me lots of jobs. When all is said and done he is much less expensive than other producer/engineers that I've worked with. I highly recommend him!"
–Tasia Valenza, Emmy Nominated Actress, Voiceover Artist
"Sam's studio is very comfortable, sounds great, and is packed full of state-of-the-art gear. As an engineer/producer/arranger he is the ultimate musical resource you could wish for: he can score, arrange, produce and compose with the best of them"
–Ramiro Fauve, artist, musician
"When I started my first project Sam gave me the confidence and belief in myself that I had a product that was worth sharing.  My knowledge of music production/arrangement was zero and Sam was able to take a raw product and turn it into a masterpiece. He clearly understood who I am and the message that I wanted to offer, and his arrangements captured the true essence of each song. My first three albums are so successful that we are now working on my fourth CD!"
–Rabbi Mordechai Dubin, Children's Recording Artist