weddings/bar-bat mitzvahs
Sam Glaser Orchestra in action: Click here for event videos!
For life's most important celebrations...
you only have one chance to get everything right!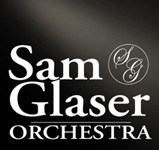 • Weddings
• Bar/Bat Mitzvahs
• Parties
• Banquets
• Fundraisers
• Anniversaries
• Custom Montage Video Music
The Sam Glaser Orchestra features top musicians in the Southern California area who LOVE to play. This is not a sleepy group seated at their bandstands...we take very seriously our obligation to make every event come alive. Our strengths lie in bringing together disparate elements at any given party ensuring that guests of all ages and religious backgrounds feel comfortable and involved in the action. Keyboardist/vocalist Sam Glaser is a MASTER of ceremonies…his wit and charisma gives every event professionalism, spontaneity and polish.
The Sam Glaser Orchestra has a passion for working hand in hand with our clients, anticipating every unique need so that the event runs like clockwork and exceeds expectations. We understand that this is your event, not a showcase for musicianship or ego. We are here to help you through each step of the planning process, consulting on everything from working with the caterer, décor and lighting, to enhancing the Judaic aspect of the event.
With equal enthusiasm the ensemble traverses all musical styles, from jazz, Latin and swing to motown and rock 'n' roll. In Jewish music, our repertoire spans the four corners of the Diaspora including yeshiva, sephardic, klezmer and chassidic music as well as the greatest hits of Israel. Our hora dance medleys are considered to be among the most exciting and exhausting in the business.
Our Bar/Bat Mitzvah celebrations are unique and complete. We are able to spin CDs of the kid's favorite tunes, coordinate games they love, pass out prizes and work the guests of honor into the set. We are always ready with a spontaneous song for a candlelighting ceremony, a special request or dance. Many Bar/Bat Mitzvah families offer a gift back to their community by sponsoring a special Sam Glaser concert in conjunction with their celebration.
We strive to accommodate most any budget or musical requirement. There are never hidden charges; our competitive rates are carefully explained in detail. From one to fourteen piece ensembles are available. Ask about our seven-piece special package rate.

We can also provide party planners, dance troupes and DJ's and such specialty ensembles as string quartets, klezmer ensembles, flamenco guitarists, mariachi and strolling violinists.
Clients are encouraged to visit our offices just south of Beverly Hills in order to peruse our extensive song catalogues, compare suggested set lists and view any of a number of videos of the Sam Glaser Orchestra in action.
Call Marcia Baron at 800-972-6694 Today!