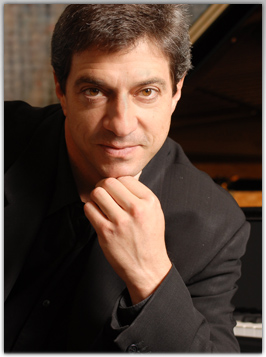 band bios
Mat Gurman, Electric and Acoustic Guitar, Background Vocals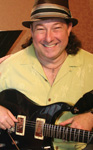 Mat Gurman is a guitar virtuoso who excels in nearly every genre of modern music. He and Sam laboriously assemble intricate guitar parts in marathon sessions that give all recordings emanating from Glaser Musicworks edge and elegance. Mat is a source of tremendous spiritual insight, a poet and dedicated friend. He and Sam have worked continuously since he became a finalist in the American Jewish Song Festival in 1993. Sam initially tried to talk him out of performing his own song until he heard Mat's guitar playing demo tape…and the rest is history. A frequent guest of the Tonight Show band, his concert, television, studio and film credits include: The Back Street Boys, Tanya Tucker, K.D. Lang, Grease, Lisa Loeb, Steve Allen, Tom Scott, Theodore Bikel, David Cassidy and the Beach Boys. Mat has been featured and praised by Guitar Player magazine- ."..he's a terrific player...crafty composer...effortless groove...lush and lustrous tone." Mat Gurman's original CDs Journey to the Center of the Groove and Between Nirvana and the Bomb and instructional videos are available at music stores and on the web.
Website: www.cdbaby.com/cd/gurman2
Larry Steen, Electric and Acoustic Bass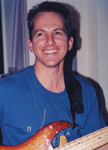 Larry Steen has played on virtually every CD release and live date with Sam Glaser and the clients of Glaser Musicworks since 1993. He possesses a total command of his instrument in all its permutations, has an amazing ear, reads notes off the chart like a vacuum cleaner and solos melodically and effortlessly. In 1988, Larry Steen won the International Society of Bassists' Jazz Competition after completing a Bachelor of Music degree (Magna Cum Laude) in Studio Music and Jazz from the University of Miami in Florida and attending Berklee College of Music in Boston. Since then, he has received a Master of Fine Arts degree in Jazz and Afro-American Music from the California Institute of the Arts (CALARTS) and has toured, performed and/or recorded with Mel Torme, Ella Fitzgerald, Barry Manilow, Melissa Manchester, Engelbert Humperdinck, Stevie Wonder, Billy Eckstine, Jon Hendricks, Mose Allison, Ernie Watts, Dave Weckl, Jimmy Buffet and the Coasters. He has also recorded extensively for film, television and radio and on CDs which include his own ASCAP award winning world jazz releases, View From Afar and First Move.
Website: www.LarrySteenMusic.com
Dave Hooper, Drums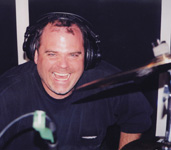 "Hoops" and Sam Glaser have been working together since 1988 when Dave joined "Sam Glaser and the Thursday Night Band," a R&B flavored Rock outfit that played the clubs throughout Southern California. Dave's meticulous and musical drumming has been featured on nearly every one of Sam's albums and those of countless studio clients. He has the mystical ability to hear a new song and know exactly what is expected down to the last drum fill, and his time is tighter than the click track. Dave attended North Texas State University for 2 years and studied with Peter Erskine, Gregg Bissonette, Steve Houghton, Joe Porcaro, David Garibaldi, Tom Brechtlein, and spent many hours jamming in his garage with roommate, Gary Novak. Dave's Dad, composer and big bandleader Les Hooper couldn't wait to use him on his commercials, so at the age of 17, Dave began his studio drumming career. Highlights of his career include working with Herbie Hancock, Sheryl Crow, The Rippingtons, David Byrne, Warren Hill, Jeff Golub, Joe Sample, Craig Chaquico, The Manhattan Transfer, John Tesh, Chaka Kahn, Jeff Kashiwa, and James Ingram.
Website: www.drums.hooper.com
Cassio Duarte, Percussion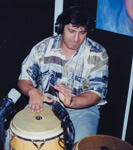 Cassio is a master of percussion styles from around the world. Over the past decade he has frequently hauled his closet sized cases full of Latin, Mid-East and African percussion to Sam's studio where he has been forced to endure endless sessions in what he affectionately calls "The Factory." Cassio has played and recorded with a cross section of top artists including Oscar Castro-Neves, Chaka Kahn, Googoosh, Ivan Lins, Dariush, Brenda Russell, Toots Thielemans, Lee Ritenour, Larry Carlton, Al Jarreau and toured for seven years with Strunz & Farah. He has taught Brazilian Percussion at SANGEET School of World Music, LA Music Academy and UCLA.
Website: www.cassioduarte.com
Michael Lington, Sax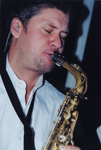 Michael Lington's soaring saxophone has shaped Sam's sound since 1991 when they met at Sam's first major Jewish concert for the Conference for Alternatives in Jewish Education at USC. Just having moved from his native Copenhagen, Michael had already toured with rock legends Little Richard and Gary U.S.Bonds. His major breakthrough came with singer Bobby Caldwell, with whom Lington played from 1994 through 1998. Caldwell's performance on Tell It Like It Is, from Lington's self-titled 1997 debut, propelled the single to the Top 10 of the Adult Contemporary charts. Michael's 2000 release Vivid spawned two of smooth jazz's hottest singles of the year. Fresh off the success of A Song for You, the prolific sax-man's dynamic, critically acclaimed collection of 70s pop covers featuring lush arrangements and a full orchestra, Lington -- who became a US citizen in March 2008, 18 years after emigrating from Denmark -- gets back to his funk roots, turning up the Heat big time on this highly anticipated release from Nu Groove..
Website: www.Michaellington.com
Michael Nelson, Sax, Clarinet, Flute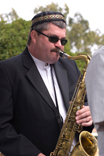 Michael Nelson's boundless energy and musicality can be heard on Sam's recordings and in concert since 1999. His mastery of many wind instruments in addition to powerful vocals and piano playing makes him one of the busiest musicians in Southern California. He has worked on numerous TV and film soundtracks and is in the Acadmey Award Orchestra and the Bonnie Hunt Show band. He has played with such luminaries as Aretha Franklin, James Taylor, Natalie Cole, Jose Feliciano, Michael McDonald, Chaka Kahn, Barry Manilow, Patti Austin, Patti La Belle, The Drifters, Freddy Hubbard, Clark Terry, Tom Jones, The Fifth Dimension, Henry Mancini, Bobby Brown, Roger Daltry, Edgar Winter, The Four Tops, Brian Setzer, Jim Belushi, The Coasters, Diahann Carroll, Don Rickles, Steve Allen, and Bob Hope. Yes, Michael gets around. He received his BA in Music from Cal State Northridge.
Lee Thornburg, Trumpet, Orchestrations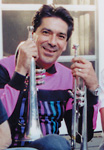 Lee has been playing and charting blazing horn parts on Sam's albums since 1996. In spite of his intense schedule in studios, on stages and nightly in the Tonight Show band, he still manages to find the time to share his fearsome chops and congenial enthusiasm with Sam and the gang. Despite his desire to stay in Los Angeles, after four years on the road with the legendary Wayne Cochran and C.C. Riders, Lee Thornburg found himself travelling with Nicolette Larson's band, then with Lowell George of Little Feet. Additionally, Thornburg has toured with numerous music legends including Rod Stewart, Tom Petty, Aaron Neville, Ray Charles, Bonnie Raitt, Huey Lewis, Etta James, Dwight Yoakam and Clint Black. He is a founding member of the "blue-eyed soul" band Jack Mack and the Heartattack and joined "The Tonight Show" band in July 2001.
Dan Weinstein, Violin, Trombone
Dan Weinstein is a prolific violinist, trombonist, and occasional music composer in the southern California music scene. He is a regular on stage with Sam completing the horn section on trombone and in the studio creating layered string and horn parts. Weinstein has recorded in widely disparate genres during the past three decades, but is generally known for live jazz performances. His best-known credits come from his live sessions with Ray Charles and the Jacksons. As with most Los Angeles-based musicians, much of his other credited works are film-related. Dan has played both violin and trombone with Sam since his debut in 2000.
Ramiro Fauve, Acoustic Guitar, Background Vocals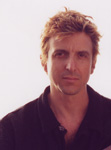 Ramiro and Sam have enjoyed a vast creative kinship for the past 15 years. He not only plays and sings live and on CD but also is a valued sounding board for Sam's new music. Their partnership has included Ramiro's live backup vocals with Sam Glaser and the Thursday Night Band in the '80's, his "associate production" of several of Glaser's releases, Glaser's production of Ramiro's 1995 release Outta the Blue, as well as the Ramiro's design of every one of Sam's albums and promotional campaigns. Most recently the prolific pair released O/See What You Want, an uplifting, provocative and sonically intense collaborative CD two years in the making. Together they have hiked, skied, rappelled, surfed and laughed through countless adventures. Fauve was born in Argentina of French and Italian descent; his mother, Smithsonian Folkways recording artist Suni Paz, is a gifted interpreter of Latin American folk music. Ramiro is a widely sought-after muralist and commissioned artist for his unique skills and his gentle style combining expressionism, photrealism and surrealism. (http://www.fauvecreations.com)